COMPANY
MI.GA.L.
SINCE 1970
For over 40 years MI.GA.L. has been standing out in professionalism, flexibility, customer care and solidity. The internal organisation has allowed to reach an important economic-financial strength, that is made readable to customers through pubblications of annual turnover. MI.GA.L. has got a transparent approach that along with its high technical know-how creates the necessary condition to build long lasting partnerships based on mutual trust.
EXPERIENCE
---
The specialized experience, consolidated in over 40 years, allows MI.GA.L. to answer to any customer demand. The Group is always ready to accept and face the challenges of the market.
QUALITY
---
Quality is the target of production and it is the basis of the corporate phylosohy of Group MI.GA.L. 
Quality is the value ispiring every single thought and action of the Group, with the aim of getting the best  performance possible.
INNOVATION
---
Thanks to continuous innovation, MI.GA.L. is able to provide maximum competitiveness in terms of manufacturing and service. Every year significant economic resources are implemented in order to improve methods, processes and products. 
CONTACT US
YOUR TECHNICAL PARTNER
IN EVERY SINGLE STEP
METHOD
EXCELLENCE
IN CREATION
MI.GA.L. provides services of design and manufacturing of products in non ferrous metals: brass, copper and aluminum. The Group is able to produce range of products from 5g up to 50 Kg.
The internal productive processes include: design, industrialization, hot forging, casting, high pressure die casting, mechanical machining and surface treatments. In the frame of high performance target, the constant training of internal human resources is a top priority for MI.GA.L. 
PRODUCTS
PERFORMANT
IN ALL FIELDS
The structure and organization of Group MI.GA.L. represents an excellence on the market. MI.GA.L. has the ability to offer a unique and integrated partnership for every single phase of production of parts in non-ferrous metals: hot forging, casting, high pressure die casting, mechanical machining. Thanks to a strong know-how consolidatd over the years, the Group provides components for the following market sectors: water, oil&gas, electrical, automotive.
FIGURES
OUR
FIGURES
147,70 Mio€
Consolidated turnover 2022
30000 Tons
Annual production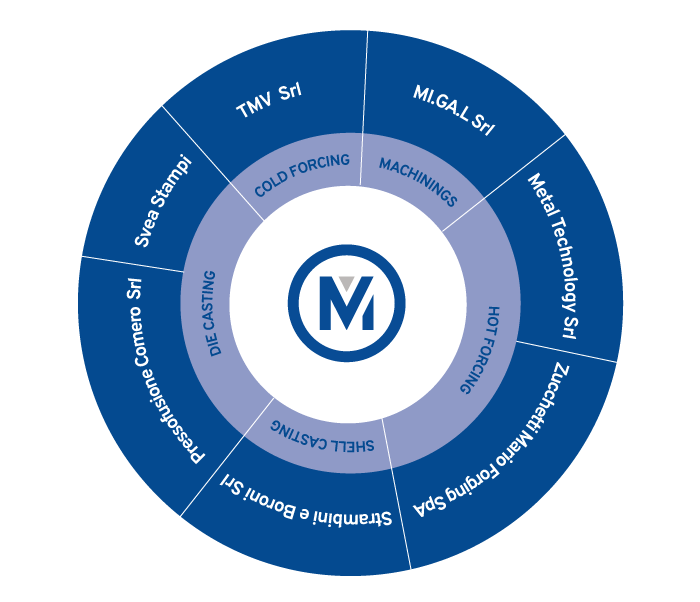 THE GROUP
SEVEN
LEADER COMPANIES
Seven companies; a unique partner able to guarantee reliability and excellence thanks to the internal control of the entire productive process, which is integrated in every single step of production.
MI.GA.L. Srl, Metal Technology Srl, Zucchetti Mario Forging Spa, Strambini e Boroni Srl, Pressofusione Comero Srl, Svea Stampi Srl and TMV Srl are leader companies in design, hot forging, casting, high pressure die casting, machining in the following fields: water, oil&gas, electrical and automotive. A structured Group that allows to optimize times and costs and to maximize the results.
A Group able to guarantee quality, precision, reliablity thanks to integrated and consolidated processes.